Regular price
0,00 DKK
Sale price
220,00 DKK
Unit price
per
Sale
Sold out
In stock
Pay with MobilePay

Pay quickly and easily with MobilePay and many other payment options
FREE SHIPPING ON ORDERS OVER DKK599

Safe delivery within 1-3 working days and free shipping if you order for more than DKK 599.
30 DAY RETURN RIGHT

We know it can be difficult to choose the right size or fit. That's why you always have a 30-day right of cancellation on all goods and easy returns with our return portal.
BONUS! YOU SUPPORT YOGA FOR YOUTH

Every time you buy a GOYOGI product, you help support our YOGA FOR YOUTH FOUNDATION.
read more here
😍 Handpicked Recommendations
Wrapping of Mantra mala chain

0,00 DKK220,00 DKK

+
---
Just as it can happen with a pearl chain bought from the jeweller, your mala can break (however, you don't have pearls all over the place because of the knots between each pearl).

But traditionally this is only a good sign. Some sides that it means that your jewelry has fulfilled its purpose - supported your intention that has now manifested itself.

This is of course a possibility, but my own experience is that a mala breaks because it is well used and because the stones - which are of a certain hardness - that sit on it, eventually wear down the string. Just like all other pearl necklaces.

Then, should your Mantra jewelery break because you either use it a lot or are unlucky enough to get stuck and break it, you can of course have it repaired - or rather, completely re-tied.

Because you cannot repair a mala or a mantra bracelet. Each pearl must be cut off and put on a new string and tied with new knots and tassel. So it's like getting a brand new mantra mala.

Rock and string
The stones I work with are all of a certain roughness and will eventually wear down the string on which they are pulled up. The polyester cord that I use is strong and significantly more robust than, for example, silk cord or cotton, but in contrast to, for example, freshwater pearls, the hard stone pearls will wear down even the strongest cord over time - especially if you wear your jewelry every day.

Therefore, remember to take good care of your mala. Take it off when you sleep, don't take it in the shower or in the water at the beach and take it off when you do, for example, hard exercise where you sweat a lot. The stones can withstand water well, but the string does not benefit from it.

And don't wrap it around your wrist. It is not a bracelet and the cord wears out a lot when you wrap it around your wrist.

Price for a wrap and rebinding of your entire mala
A redo costs DKK 220 and you bear the direct costs in connection with sending us your piece of jewellery.

When you have ordered and paid for your circumcision, you send your mala to Marlene Schnoor, who is our mala designer:

Marlene Schnoor
Sauntevej 109
3100 Hornbæk
Phone 53 53 95 87
Info@mantrabym.dk

Attach the reference number of your purchase of re-circulation (for example #90550-F1)

Namaste

Note! Revocation applies only to Mantra malas and bracelets tied by MarleneSchnoor originally under the name Mantra by Marlene Schnoor or GOYOGI. If you have other malas or jewelery that you would like tied around, contact us by email or via Facebook and Instagram. Maybe we can help you, but it's not certain.
View full details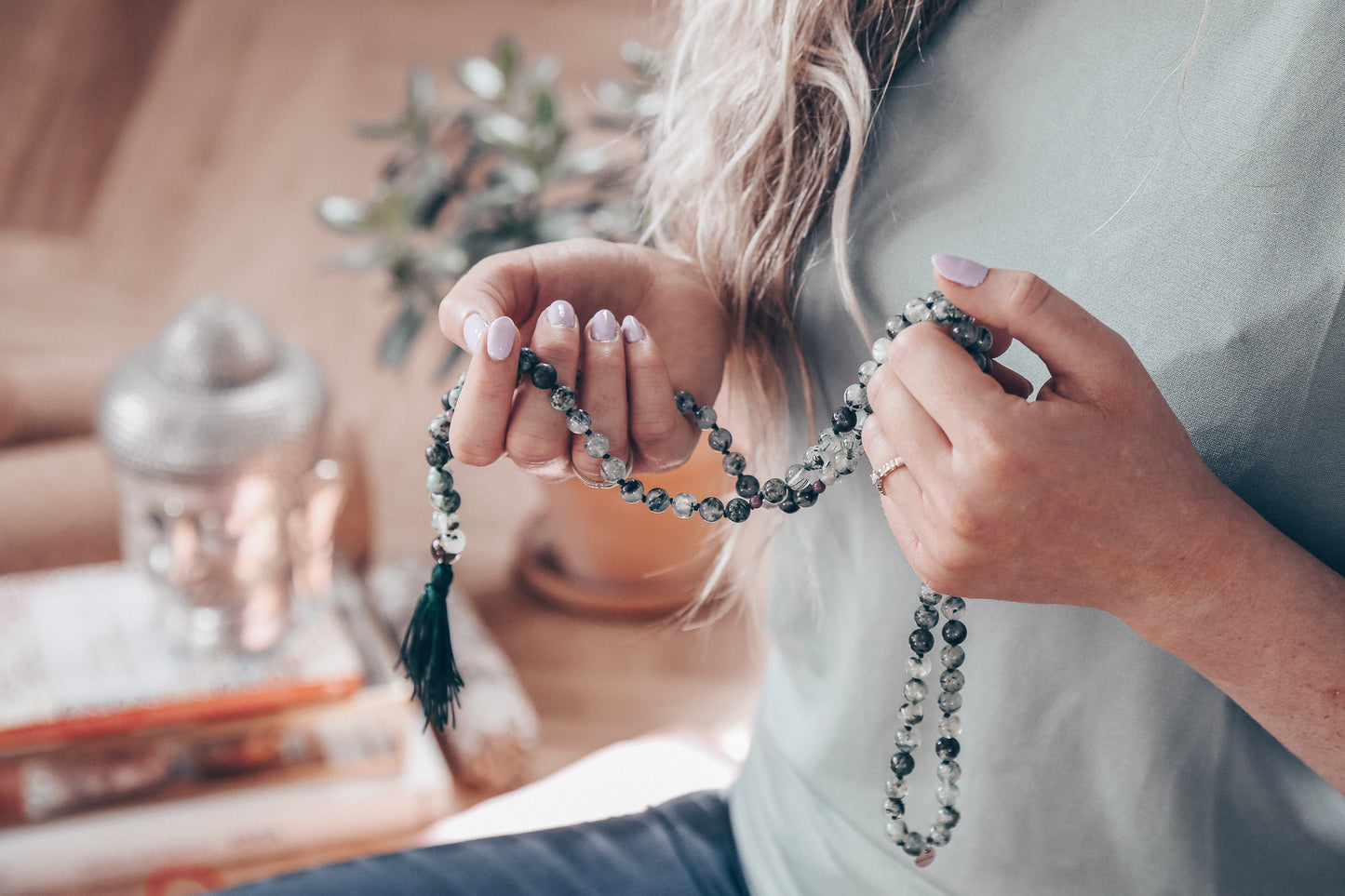 Would you like to start meditating? Would you like to create a dedicated space for your new practice?

Then here is the perfect bundle for you - quite simply!

A fantastic meditation pillow + supportive zabuton.

Right now you get a whopping 30% off!

The meditation cushion is filled with fine buckwheat hulls, so that it can be adjusted down in height as you become more flexible. The large floor pillow is filled with cotton and both pillows have a removable and washable cover made of the most delicious organic cotton.

You can choose from our seven beautiful shades and you can now also mix and match colors so that you get exactly the look you want.
Begin meditation bundle
Combine your colors and get off to a good start