Regular price
1.100,00 DKK
Regular price
0,00 DKK
Sale price
1.100,00 DKK
Unit price
per
Sale
Sold out
Low stock: 2 left
Pay with MobilePay

Pay quickly and easily with MobilePay and many other payment options
FREE SHIPPING ON ORDERS OVER DKK599

Safe delivery within 1-3 working days and free shipping if you order for more than DKK 599.
30 DAY RETURN RIGHT

We know it can be difficult to choose the right size or fit. That's why you always have a 30-day right of cancellation on all goods and easy returns with our return portal.
BONUS! YOU SUPPORT YOGA FOR YOUTH

Every time you buy a GOYOGI product, you help support our YOGA FOR YOUTH FOUNDATION.
read more here
😍 Handpicked Recommendations
Mantra Mala - 'I am creative'

0,00 DKK1.100,00 DKK

+
---
Mantra Mala ia frican turquoise and a quamarine with breaks and Guru of sterling silver

African turquoise is not a real turquoise (real turquoise is extremely rare and the blue stones usually sold as turquoise are at worst a mixture of cement and color). African turquoise, on the other hand, is related to jasper and is a stone of transformation and change. Let it help you to have an open mind and to see the opportunities and welcome them with open arms when they present themselves. It must strengthen your self-confidence and renew or strengthen your desire and willingness to change. It is particularly linked to 'the third eye' and should therefore help you to greater self-insight and spiritual guidance.
Aquamarine's bright blue color links it to the throat chakra and lets the words flow freely. Aquamarine washes away stress and fear and helps you with major life changes or to find closure. It directs the mind to the sea, which is both calm and agitated, in motion and still. It is seen as a talisman for good luck on journeys (especially on water) and for courage. Aquamarine also protects the psyche from dark vibrations and negative behavior patterns and has often been seen as a symbol of youth and happiness. Let its calm but powerful energy help you well on your way to new life paths and more creativity.

Silver is often associated with the moon and its energy. Because silver is shiny, it is also said to be a mirror of the soul. It invites self-reflection and should help you to a greater understanding of your true self. Therefore, let these silver elements create balance and understanding for the universe's synergy and greater coherence.
The snake is a fantastic and interesting symbol. Over time, it has had many messages and meanings; the tempter, but also the awakener of awareness in Christianity, the fruitfulness of the Canaanite religion, the universal wisdom and understanding of the ancient Egyptians and the inner, smoldering energy of the yogis - the kundalini energy. A strong sombol that should put strength, energy and wisdom behind your intentions and dreams.

A mantra jewelry with meaning:
All mantra jewelry is handmade, with love, with good energy and is created from materials of high quality and strength. The tassel in the malas is tied in a special way, developed by Marlene Schnoor herself. ​When the mantra jewelry is finished binding, it is given a mantra that matches its energy and its stone.

Marlene Schnoor believes that words are a form of energy and a lot of time is therefore spent on finding the right words to attach to these mantra jewellery. You can therefore use them for meditation, but also to create focus in yourself - by wearing them and feeling their weight. Feel their words and their materiality and carry your mantra with you through your everyday life.

How to care for your jewelry:

Here you will get a guide on how to take best care of your new Mantra jewellery.
It is important to take good care of your mala or bracelet if you want it to help you for a long time.

Like all other jewellery, it can break, so here are tips on how to take care of it as well as possible.
Always treat your mantra jewelry with respect

Be careful and loving when taking it on and off

Do not tie it around the wrist like a bracelet (mala)

Never expose it to water or water vapor in large quantities

Do not hide it away in small closed rooms, but give it air and freedom

Do not drop it or let small children play with it.
Your mantra jewelry is a tool. A tool for meditation, yoga, manifestation and mindfulness. In short, it's an investment in you and your dreams. So be good about it.
Specifications:
108 mantra beads in high-quality gemstones - 6mm
4 break pearls in 925 sterling silver - 2-3mm
1 piece Guru with snake symbol in sterling silver (+silver bead 4mm)
Length: Approx. 50-55 cm from the logo tag to the end of the Guru pendant
All malas are tied on strong nylon cord for best durability.
There may be slight color differences in the natural stones, slight variations in the length of the mala and slight differences in the length and thickness of the tassel as no two malas end up being the same - they are each hand tied.

However, the mala you buy is always in the same type of stone and set on the same color cord as the one you find in the picture.

*Be aware that malas and other mantra jewelry cannot cure serious physical or mental illness. Mantra jewelry is intended as mental tools for yoga, meditation, manifestation, mindfulness, and self-development - not for curing disease.
View full details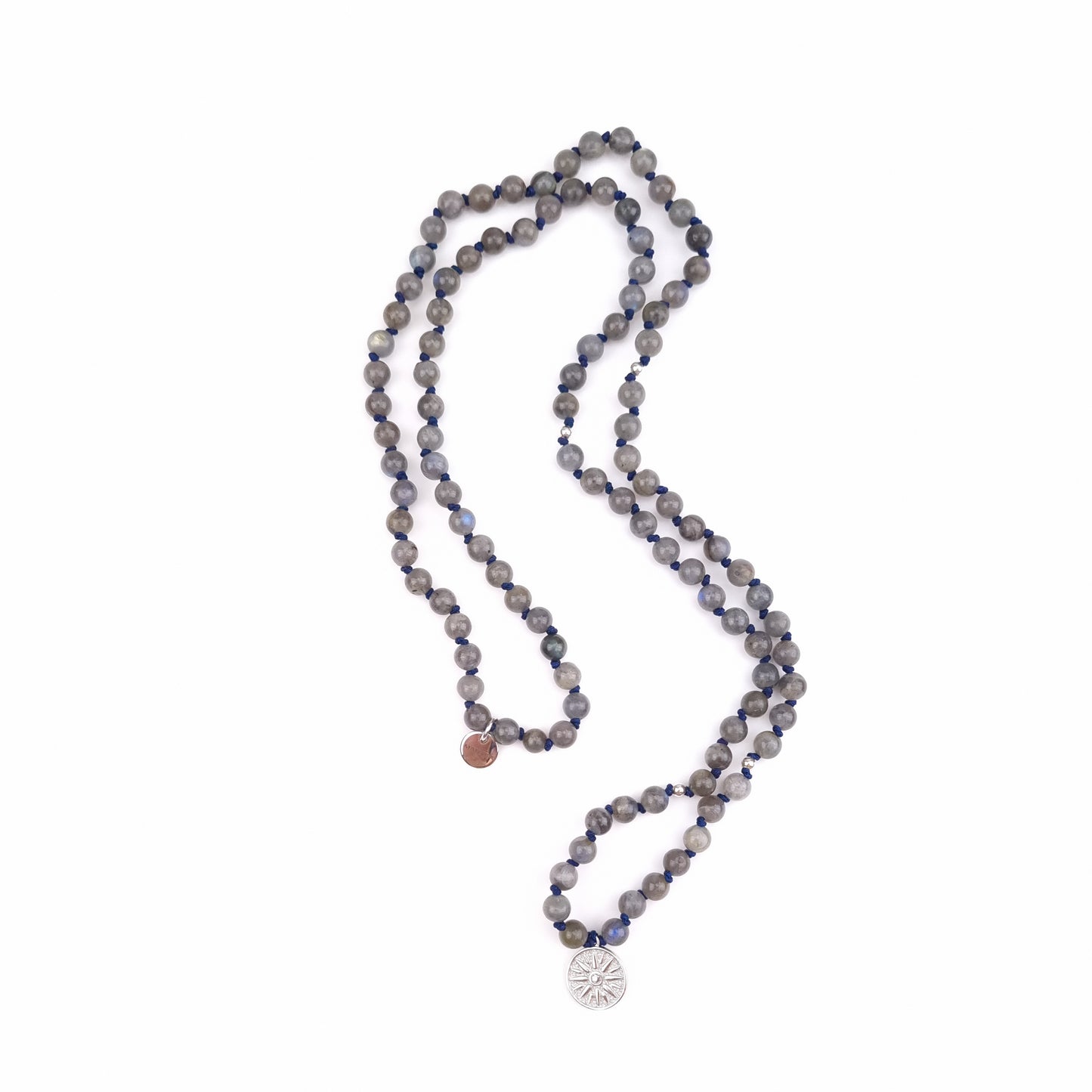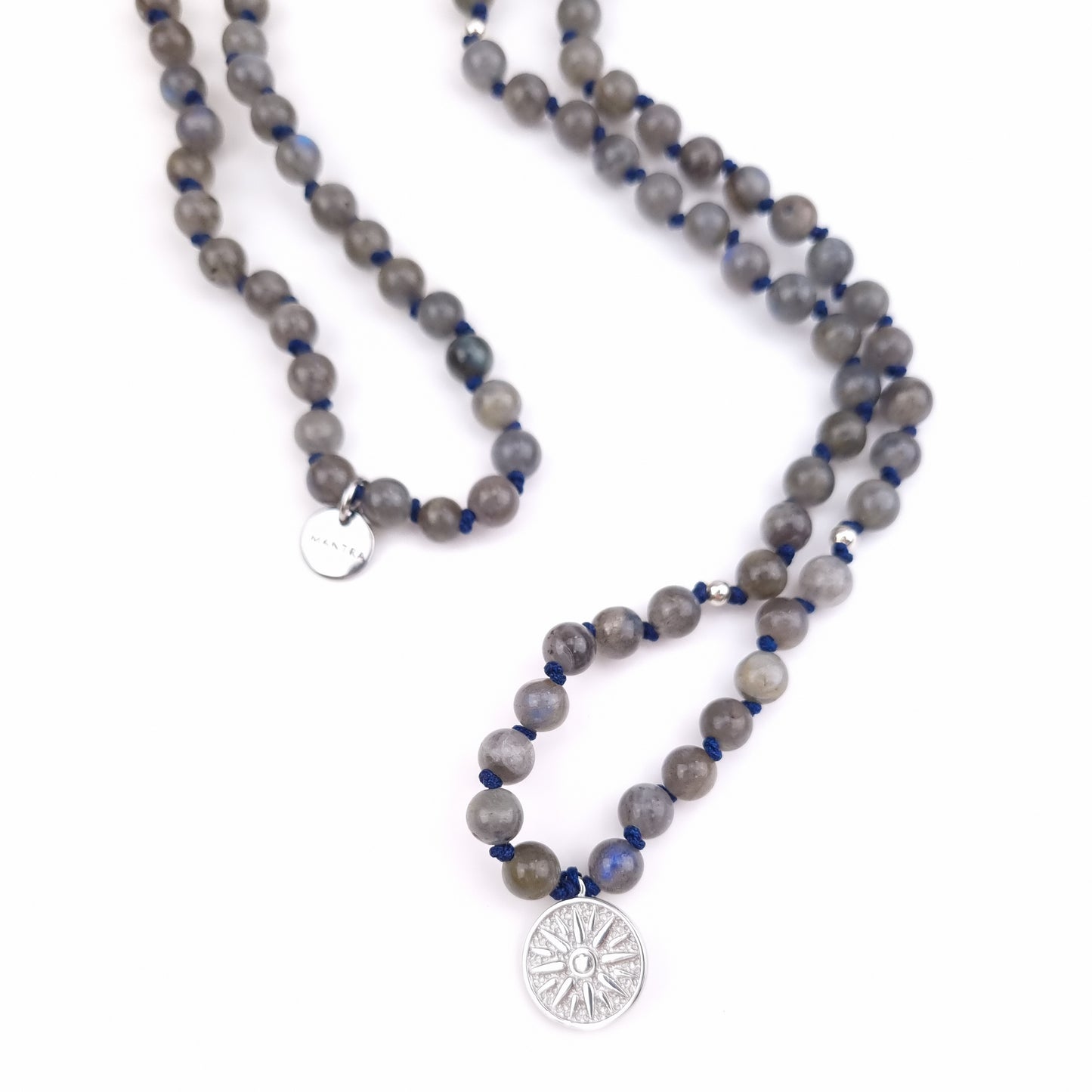 Would you like to start meditating? Would you like to create a dedicated space for your new practice?

Then here is the perfect bundle for you - quite simply!

A fantastic meditation pillow + supportive zabuton.

Right now you get a whopping 30% off!

The meditation cushion is filled with fine buckwheat hulls, so that it can be adjusted down in height as you become more flexible. The large floor pillow is filled with cotton and both pillows have a removable and washable cover made of the most delicious organic cotton.

You can choose from our seven beautiful shades and you can now also mix and match colors so that you get exactly the look you want.
Begin meditation bundle
Combine your colors and get off to a good start