Regular price
0,00 DKK
Sale price
900,00 DKK
Unit price
per
Sale
Sold out
Low stock: 1 left
Pay with MobilePay

Pay quickly and easily with MobilePay and many other payment options
FREE SHIPPING ON ORDERS OVER DKK599

Safe delivery within 1-3 working days and free shipping if you order for more than DKK 599.
30 DAY RETURN RIGHT

We know it can be difficult to choose the right size or fit. That's why you always have a 30-day right of cancellation on all goods and easy returns with our return portal.
BONUS! YOU SUPPORT YOGA FOR YOUTH

Every time you buy a GOYOGI product, you help support our YOGA FOR YOUTH FOUNDATION.
read more here
😍 Handpicked Recommendations
Mantra Mala - 'I have found my place'

0,00 DKK900,00 DKK

+
---
Mantra mala in picture jasper with breaks in black agate and Guru in golden amazonite

Picture jasper is a stone for grounding and positioning. Positioning in relation to earth, sky, interior and exterior. Picture jasper is said to be closely connected to Mother Earth and its warm earthy colors give off a calm but firm energy. It connects to the root chakra and must provide energy for movement and action from here.

Black Agate is supposed to help ground you and is said to be a very protective crystal. It is connected to the root chakra and should therefore have a calming effect and give you inner strength and grounding. It is said that it is also very useful in relation to maintaining peace in a stressful everyday life. Black agate should help create more stability and help you make practical decisions.

Amazonite cleanses and detoxifies your energy. It helps you get rid of worries, doubts and frustrations. It can also remove old blockages caused by experiences from the past. It connects to the heart and throat chakras and allows loving energy to flow to you.
In addition to being a lucky stone, amazonite is also said to help you articulate your needs. It reminds you to remember yourself and it can also help with mood swings and relieve stress. Furthermore, amazonite is often associated with the child's immediate and carefree energy. Let yourself be inspired to be more open and free from worries - find your inner child when the situation becomes too 'adult'.

A mantra jewelry with meaning:
All mantra jewelry is handmade, with love, with good energy and is created from materials of high quality and strength. The tassel in the malas is tied in a special way, developed by Marlene Schnoor herself. ​When the mantra jewelry is finished binding, it is given a mantra that matches its energy and its stone.

Marlene Schnoor believes that words are a form of energy and a lot of time is therefore spent on finding the right words to attach to these mantra jewellery. You can therefore use them for meditation, but also to create focus in yourself - by wearing them and feeling their weight. Feel their words and their materiality and carry your mantra with you through your everyday life.

How to care for your jewelry:

Here you will get a guide on how to take best care of your new Mantra jewellery.
It is important to take good care of your mala or bracelet if you want it to help you for a long time.

Like all other jewellery, it can break, so here are tips on how to take care of it as well as possible.
Always treat your mantra jewelry with respect

Be careful and loving when taking it on and off

Do not tie it around the wrist like a bracelet (malas)

Never expose it to water or water vapor in large quantities

Do not hide it away in small closed rooms, but give it air and freedom

Do not drop it or let small children play with it.
Your mantra jewelry is a tool. A tool for meditation, yoga, manifestation and mindfulness. In short, it's an investment in you and your dreams. So be good about it.
Specifications:
Approx. 60-65 cm from logo to the end of the tassel.

108 pearls in high quality stone - 8mm
4 break stones in high quality - 4mm
1 Guru pearl in high quality stone - 10mm
All malas are tied on strong nylon cord for best durability.
There may be slight color differences in the natural stones, slight variations in the length of the mala and slight differences in the length and thickness of the tassel as no two malas end up being the same - they are each hand tied.

However, the mala you buy is always in the same type of stone and set on the same color cord as the one you find in the picture.

*Be aware that malas and other mantra jewelry cannot cure serious physical or mental illness. Mantra jewelry is intended as mental tools for yoga, meditation, manifestation, mindfulness, and self-development - not for curing disease.
View full details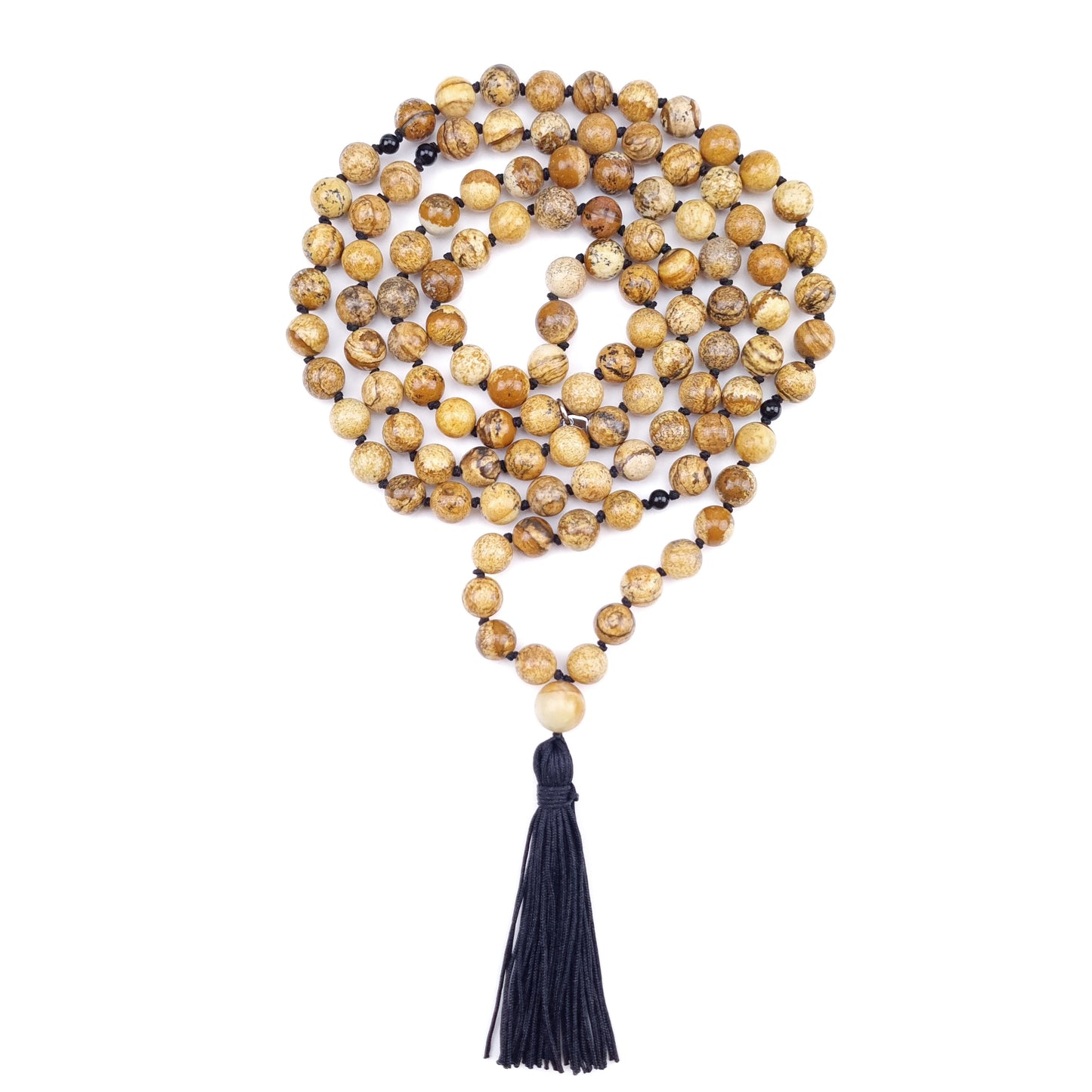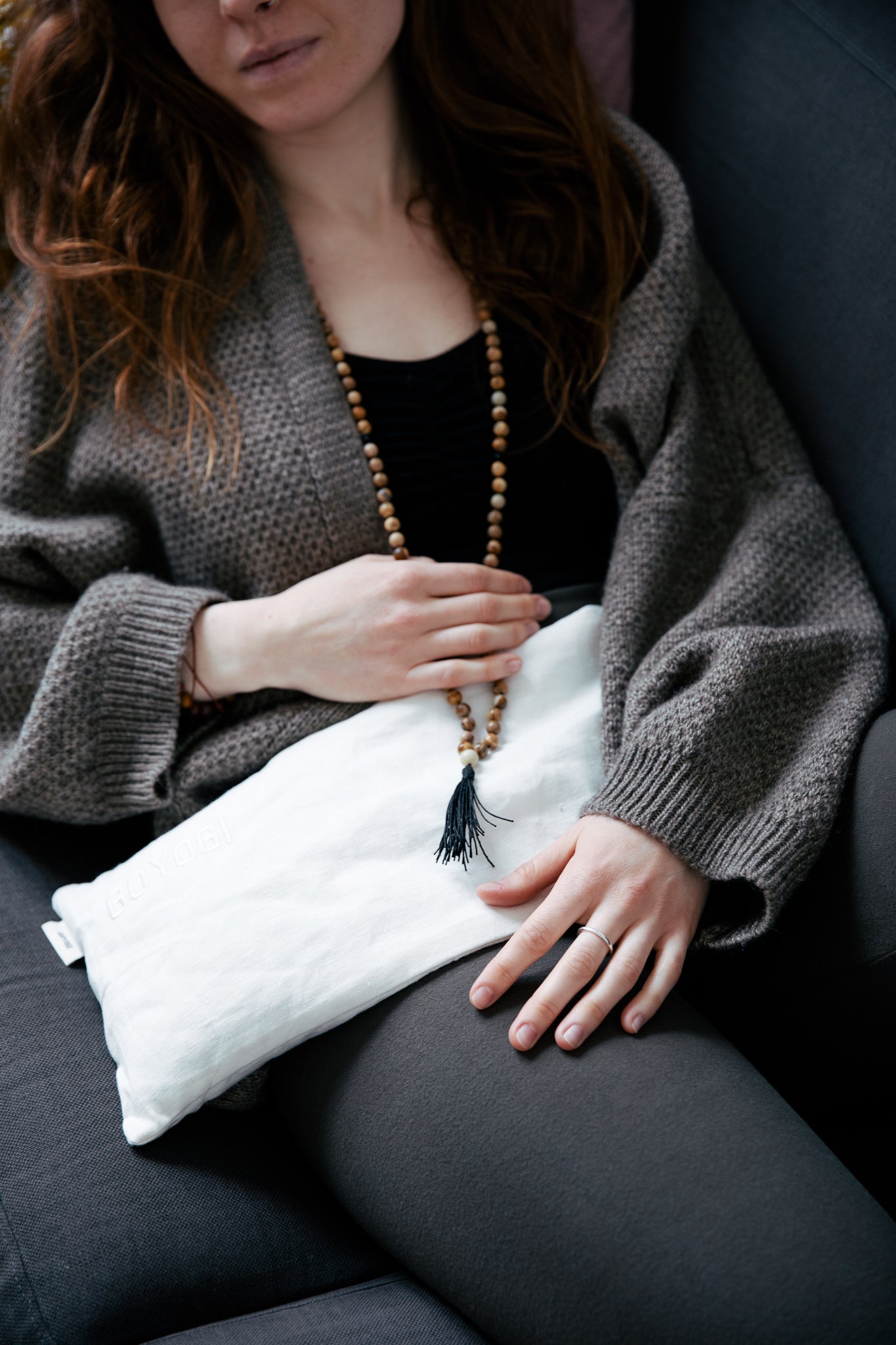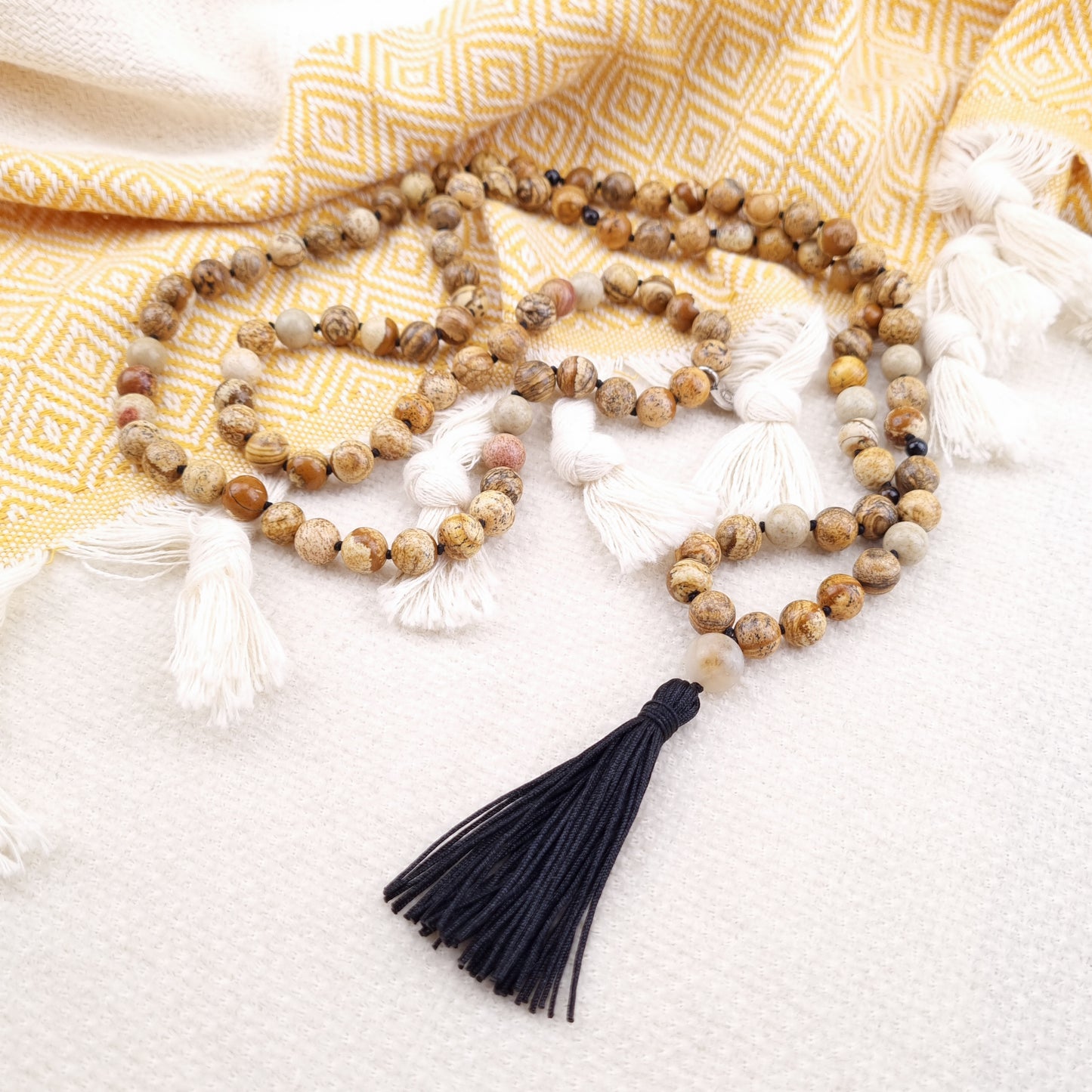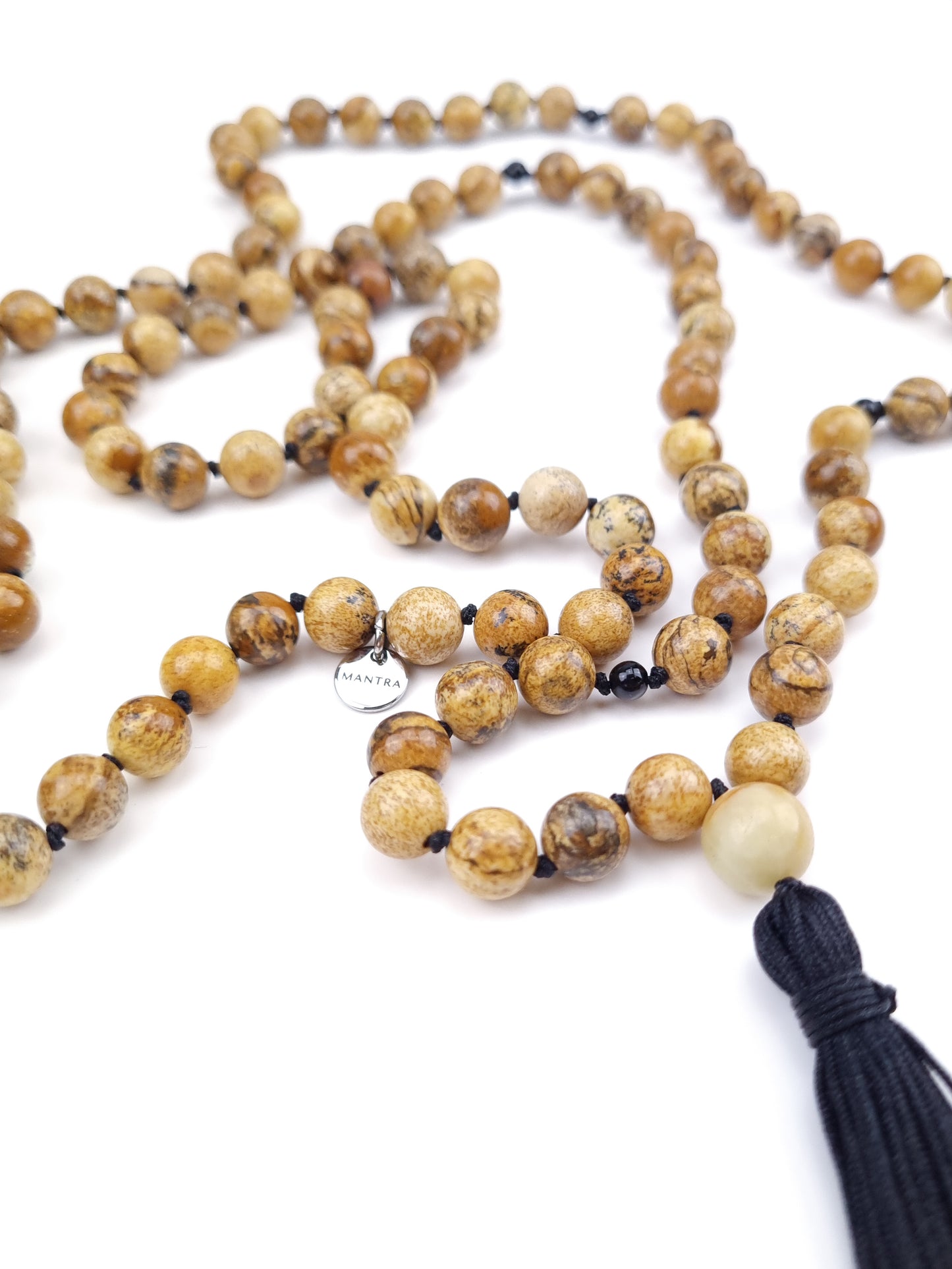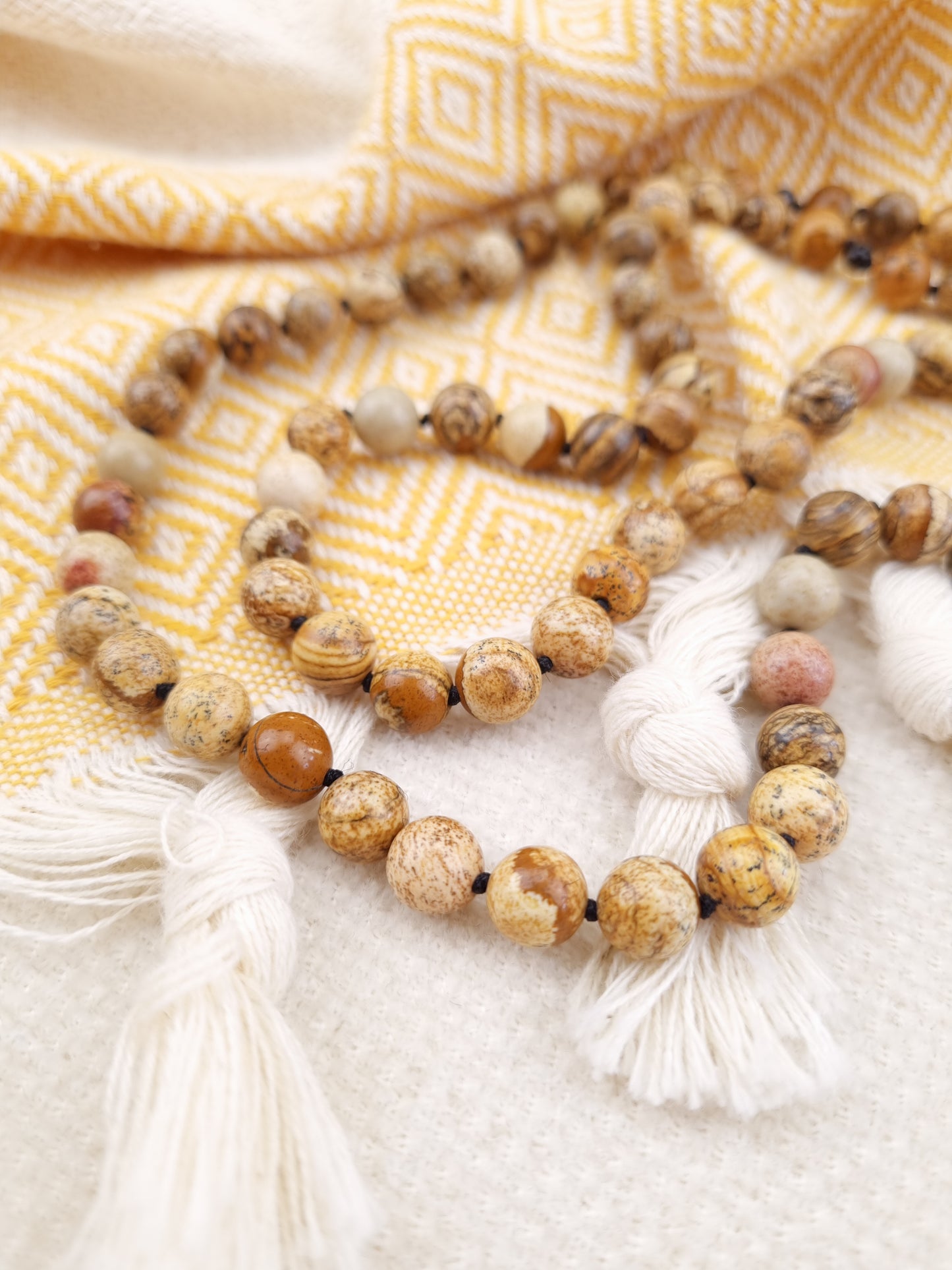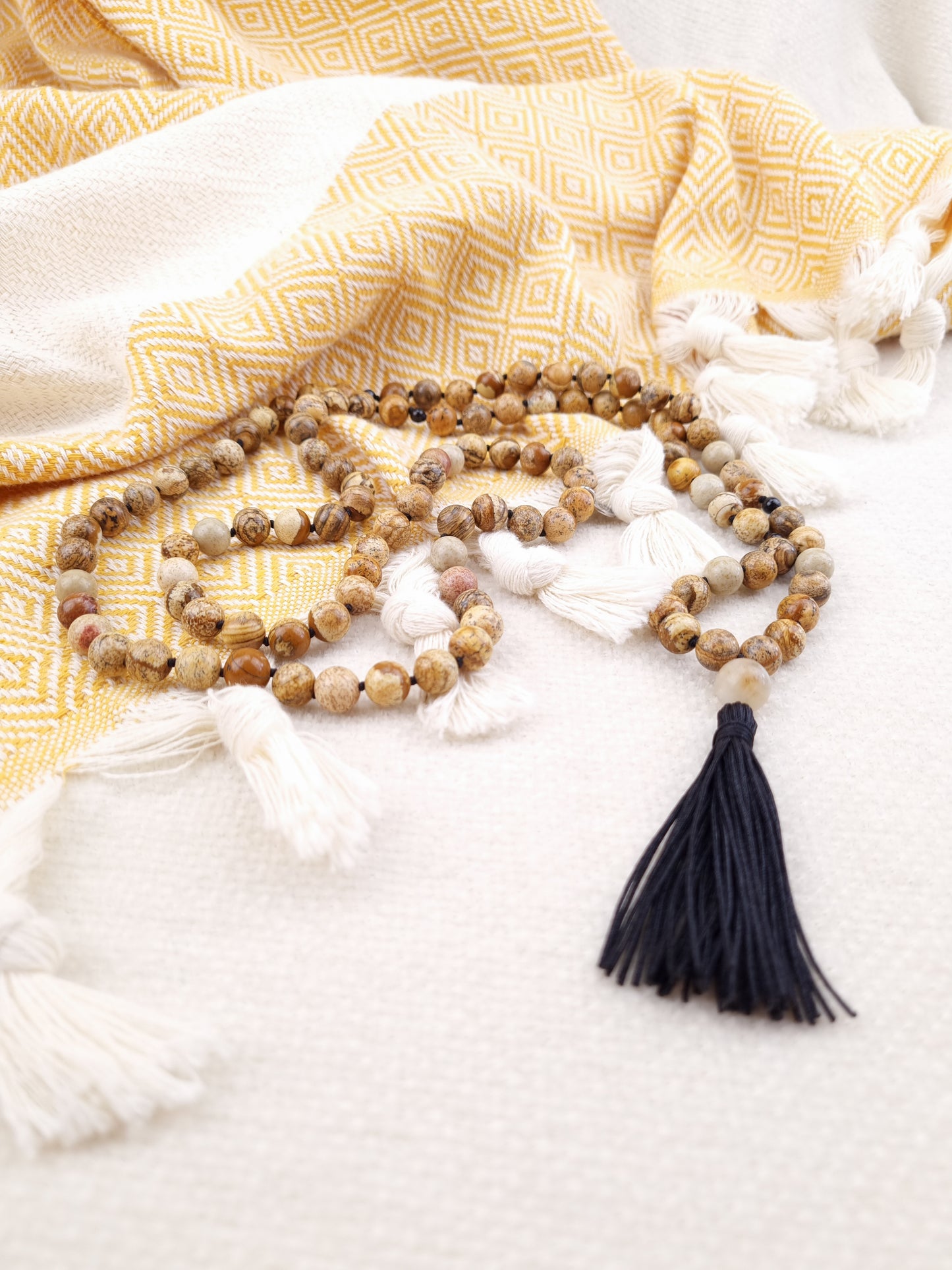 Would you like to start meditating? Would you like to create a dedicated space for your new practice?

Then here is the perfect bundle for you - quite simply!

A fantastic meditation pillow + supportive zabuton.

Right now you get a whopping 30% off!

The meditation cushion is filled with fine buckwheat hulls, so that it can be adjusted down in height as you become more flexible. The large floor pillow is filled with cotton and both pillows have a removable and washable cover made of the most delicious organic cotton.

You can choose from our seven beautiful shades and you can now also mix and match colors so that you get exactly the look you want.
Begin meditation bundle
Combine your colors and get off to a good start